September 27, 2016
Last updated on: September 27, 2016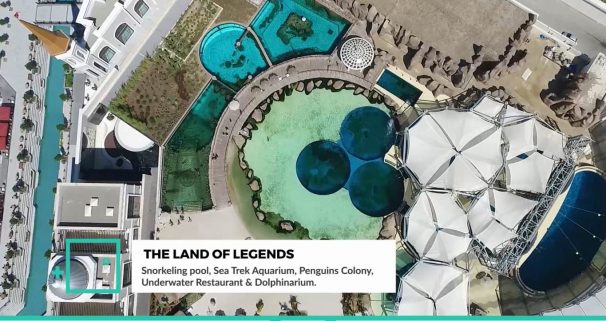 The Land Of Legends
Earlier this year Rixos World constructed The Land of Legends theme park. MAT LSS had announced that it has been awarded to engineer, manufacture, supply and install the complete Life Support Systems (LSS) for the project. Currently the facilities in Antalya are operational and are accepting visitors. Our team completed the project successfully. Specifically we designed, manufactured and installed the Filtration Systems for all aquatic facilities of the Land of Legends. Those facilities include the Shark Aquarium, the Penguin Colony, the Sea Trek Aquarium, the Dolphinarium, the Beluga whales and Dolphins encloser as well as the Snorkeling Pool and all quarantine systems.
The Land Of Legends - Rixos World - Filtration Systems
Filtration Equipment of the Theme Park
The result is an animal friendly and eco friendly establishment. In addition the water of the facilities is totally clean and includes zero Chloramines. The whole project is a 100% recirculating LSS system which doesn't connect to the sea. Moreover the power consumption of its operation is very low. The total water volume is around 20,000 m³ or 5,000,000 Gallons while the total surface of all pools is around 11,000 m². The project required more than 10,000 meters of pipes and around 8,000 kg PVC Glue. It is worth mentioning that the operation of the facilities requires only two people technical faculty per shift. Occasionally it needs only 10 divers for complete maintenance and cleaning.
In the final analysis the area of the Filtration Room is around 2000 m² and the project includes among others 36 Sand Filters, 36 Pumps, 7 Giant skimmers and Skid Filtration Systems. In fact the diameter of the protein skimmers is 3 meters and their height is 6 meters. MAT LSS also installed the Ozone generators and other filtration equipment.
Contact now MAT LSS for more details or to discuss the next public aquarium project.