AQUARIUM OZONE GENERATORS
MAT OZONE GENERATORS are designed & manufactured in-house to provide stable and actual ozone delivery in high humidity environments. An Ozone generator is a sensitive electrical water treatment equipment which is fabricated specifically for aquarium filtration room conditions. The Ozone units cover a wide variety of high quality ozone production needs, starting from 5 g/h up to 100 g/h. The MAT Ozone generators maximize the efficiency of the water treatment process when paired with one of the MAT integrated Compact System components or used as a stand-alone disinfection system. MAT Ozone Generators are designed for stable use, low power consumption, minimized footprint and operation in saline and humid ambient conditions. Fitted with regenerative air dryers, MAT Ozone generators provide efficient dry air supply.
Commercial Ozone Generators
OFFER, USE & APPLICATION
MAT OZONE GENERATORS offer the solution for an effective, safe and natural disinfection process. Ozone is a dangerous and unstable gas and must be produced and distributed under strict operations conditions. MAT has the technology and expertise to design safe ozone systems to deliver the actual ozone specified output.
MAT OZONE GENERATORS are applicable to Aquaculture Facilities, Aquarium Life Support Systems and all Water and Air disinfection applications.
OPERATION & ENGINEERING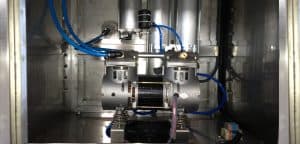 MAT OZONE GENERATORS utilize one low energy consumption air dryer, to supply dry air to the Oxygen Concentrators. The dried air is supplied to the Oxygen Concentrators by an oil free compressor. These Oxygen Concentrators work on the PSA (Pressure Swing Adsorption) principle, leading to a high purity ~93%, discriminated from air Oxygen, which is ready for the final process step through the Ceramic Corona Cell. The process inside to the Ceramic Corona Cell involves a powerful electric discharge that splits Oxygen molecule to atoms, which for stability reasons, they are attached to other intact Oxygen molecules forming Ozone. All the components of the ozone generators are repairable and replaceable.
Ozone Generator Technology
MAT offers multiple solutions for water treatment in large and commercial public aquariums. We design and build turnkey Life Support Systems that carry ozone water treatment systems. The MAT ozone generators and oxygen concentrators have several unique advantages that apply to aquaculture fish farming and public aquariums such as:
How MAT can help you increase & insure water quality with MAT ozone water treatment.
Built-in Oxygen Concentrators to produce high quality Ozone
Built-in Air Dryers to increase Ozone Generator efficiency & performance
Built-in Oil free air compressor
Built-in Oxygen Concentrators
Built-in Ventilation
Ceramic Corona Cell
Low energy consumption Air Dryer
Low pressure drops
User friendly interface
Maintenance friendly design
Long service periods
Filter bypass implementation capability
+3 °C pressure dew-point
Suitable for tropical and high humidity conditions operation
R-134a, environmentally friendly gas
Small footprint
Automated, smart control of operation
Oil free compressor elongates the Air Dryer and Oxygen Concentrator life
Durable robust design excellent resistance to harsh environment
CE Certification
No filter clogs
No need of periodic backwashing
No problems due to sludge bulking
Resistive and durable structure Low head pressure loss
Reduced sludge production
No need of periodic backwashing
No sludge bulking
Complete organic load removal
Compact Unit with increased treating process capacity