Michin Aquarium in Guadalajara, Mexico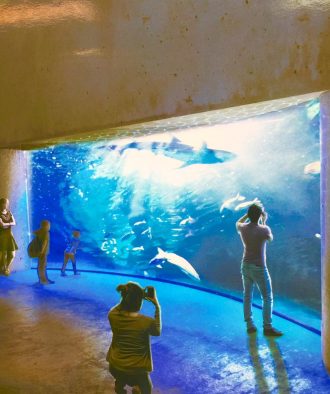 The Michin Aquarium in Mexico selected MAT LSS to provide aquarium engineering services and the aquarium filtration systems for all the tanks of their new investment. The Michin Aquarium is Mexico's newest public aquarium and it will open doors to the public around June of 2017. It is located at one the most beautiful public parks of Guadalajara. Moreover the aquarium will offer great pelagic views of large aquatic predators as well as other fish and endemic animals. The origin of the fish is the Latin America and other tropical seas.
Aquarium with Sharks, Rays and Schooling Fish
Our Aquarium Filtration Systems (AFS) provide the best water quality at the minimum water renewal. The specific installation needs less than 10% water renewal per month. At the same time they operate at the lowest power consumption levels and they are equipped with a state of the art back wash recovery systems which optimize the use of drain and backwash water. It is worth mentioning that the distance of Guadalajara from the sea is around 230 km or 141 mi. The central pool which has size more than 1200m3 will host large sharks and beautiful aquarium rays. Moreover it will host groups of fish which stay together for social reasons and swim at the same direction in a coordinated movement. (Shoaling and schooling fish). In addition there will also be smaller exhibits which will present endemic habitats of the Latin America and other tropical species.
Mincin aquarium is an affiliate aquarium with Aquaria de VeraCruz which MAT LSS is currently developing the engineering. Soon we will release more details about this upcoming project.
Grand Opening of the Michin Aquario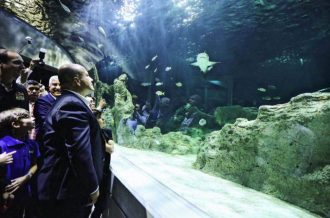 On the 19th of March took place the grand opening of the Michin Aquario. We have released new photos of the event including photos of the aquarium filtration systems!
The total investment costs almost 300 million pesos and the aquarium revitalizes the area near the Alcalde Park. Visitors will be able to have amazing and close views with tropical fish, crocodiles, birds, reptiles, turtles, otters and 12 species of sharks. Moreover there are several activities available like interaction with small crocodiles, a boa, and macaws. Soon it will be available to swim with stingrays and sharks.
Today we are giving the city the largest aquarium, the best technology and I would say, the best in Mexico and Latin America… There is no other like this.

The mayor of Guadalajara, Enrique Alfaro.
Aquarium Michin Project Gallery
Contact now MAT LSS for more details or to discuss the next public aquarium project.