IAC 2016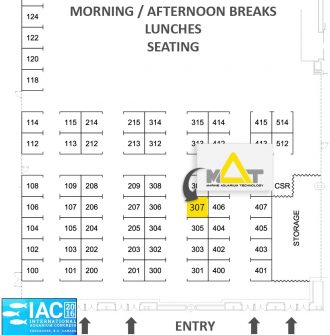 During the last decades the International Aquarium Congress (IAC) provides the aquarium scientists with the latest research on marine life. Additionally it offers a gathering point of all initiatives in the Aquarium Industry. The event takes place every four years. In the past it has been hosted in Europe, South and North America as well Asia and Africa. This year IAC 2016, takes place on 25-30 of September 2016, at the Vancouver Aquarium in Canada. More than four hundred staff and over one thousand volunteers are planning the event.
MAT LSS presents a skid filtration system
MAT LSS has will be at booth 307 of the exhibition. Please check the image for more details. As always our booth will be an excellent meeting point for custom aquarium and LSS engineers to gather and discuss for all concerns around the aquarium industry. Moreover we will be presenting one skid filtration system the Compact 10, which features:
A Protein Skimmer – Protein Fractionator
An UV sterilizer
An Ozone Generator – Ozonizer
An Oxygen Concentrator
A Degasification Bio tower / Trickle Filter
A Moving Bed Biofilter Reactor – MBBR
A Multi purpose pressurized canister
Mechanical filtration PE socks
A Venturi Pump
A Feeding Pump
An automated Skimmer Cup Wash System
Automatic Foam Cleaner
Pumps Polycarbonate cover
a fuse box
Level Controllers
Flow controllers
Skid filtration systems are very efficient where space is of the essence and power consumption matters. As always our aquarium filtration systems can guarantee the best results and the most affordable way to properly support your aquarium.
Visit MAT LSS
It will be our honor and pleasure to meet you in our booth. Please contact us if you would like to book an appointment with our team or if you want to discuss your concerns around Aquarium Filtration Systems.