The Best Zoo in Europe
According to TripAdvisor Loro Parque of Tenerife, Spain has become the best zoo in Europe and the second best in the world! The park initially was conceived as a paradise for parrots. However currently it is a mega zoo with several land and aquatic creatures. So far it has attracted over the years more than 40 million visitors. Currently the park hosts many land creatures, parrots and plants. Among its aquatic creatures there are dolphins, penguins, alligators, exotic fish, piranhas, seahorses several sharks and Orca whales. Loro parque has been he first zoo in Europe to obtain the Humane Conservation Certification achieving the highest rating. It is a special certificate for zoos which ensures that welfare of animals is suitable. With respect to the animal husbandry and curatorial practices, the Loro Parque management decided to invest in our state of the art Aquarium Filtration Systems.
Quarantine & Filtration Systems of the Aquarium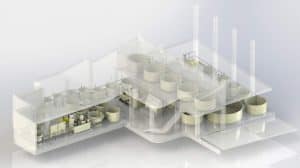 Loro Parque has a vast collection of native and tropical fish which need to be in quarantine before exhibiting them to the public. MAT LSS has designed, manufactured, installed and commissioned all new fish quarantine facilities. Specifically all quarantine tanks are made of PE. Moreover the systems run with the filtration support of the compact skid LSS units. Those too were exclusively provided by MAT LSS as well. Regarding energy matters, the filtration systems run at the lowest power consumption rates. Accordingly their capacity is more than enough to hold 400 Kg of tropical fish.
Contact now MAT LSS for more details or to discuss the next zoo project.