November 29, 2018
Last updated on: November 29, 2018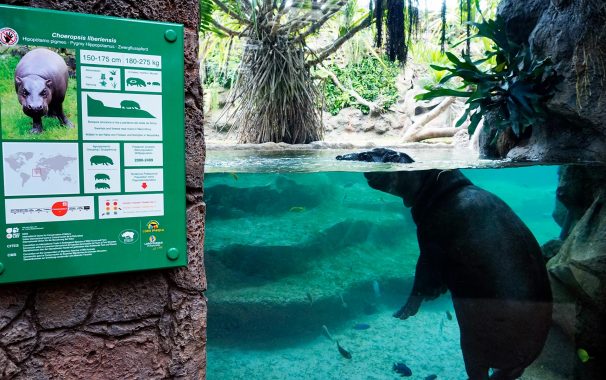 Finally Crystal Clear Water for the Hippopotamus
Having been recognized multiple times, as the Best Zoo in the World from Tripadvisor, the Loro Parque Zoo awarded to MAT Filtration Technologies the design, supply and installation of the Life Support Systems of the new Pygmy Hippopotamus exhibit. As always MAT delivered successfully and on time.
The famous Zoo in Tenerife, Spain, is once again leading the way in water quality for aquatic animals. Specifically, Loro Parque created the best exhibition for Pygmy hippopotamus allowing its visitors to observe natural animal behavior underwater. Until recently we were used to watching hippos in muddy water conditions. MAT LSS brings a change with technology that results in crystal clear water quality for modern zoo exhibits.
In fact Loro Parque states on their YouTube channel:
The installation has an underground heating system and a complete water filtration system, an essential element for these animals, who need to keep their bodies hydrated and at an adequate temperature. This way, the exhibition recreates a swampy, humid and leafy area, similar to the dense African lowland forests, native for these animals as they tend to settle around river banks.
Loro Parque Pygmy Hippopotamus Filtration Systems
The exhibit includes African cichlids fish that swim along the hippopotamus. The hippo LSS heavily depends on strong mechanical and disinfection technology in order to suspend floating particles from the water basin. MAT has the expertise to design and supply the correct equipment for all zoo aquatic animals, securing water quality beyond WAZA and EAZA exhibit standards.
Hippopotamus Filtration Systems & Scope of Work

LSS Equipment.
Pressurized Media Filters.
Ozone Contact Skid System.
Heat Exchangers.
Drum Filters.
MAT Patented Mechanical Filtration.
Ozone Generators.
UV Disinfection Units.
Circulation Pumps.
Services & Operation.
LSS & MEP Design.
Equipment Manufacturing and Supply.
Equipment & Piping Installation.
Electrical Installation.
Commissioning & Hydrotest.
Technical Training to Operational Staff.

Loro Parque Hippo Project Photos