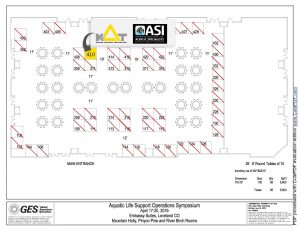 MAT LSS will be at the upcoming Aquatic Animal Life Support Operators Symposium (AALSO) 2016. The symposium takes place on April 17-20 at Embassy Suites, Loveland, Colorado, Mountain Holly, Pinyon Pine, and River Birch Rooms and is hosted by Denver Zoo and Landry's Downtown Aquarium. MAT LSS will be at booth 410 together with American Sealants INC.
ASI is our contact point for the region of America and with their technical support MAT LSS enters the USA, Canadian as well as the Central and South American Market.
Aquatic Animal Life Support Operators – AALSO
AALSO was founded in 1994. Its members are aquatic life support curators or specialists who maintain, design or operate animal care facilities all over the world. AALSO is a nonprofit organization which focuses on the training and the education of aquatic life support operators. The organization acts as a forum for its members to connect and discuss the animal care of aquatic facilities. It also educates them regarding the latest technology methods of the industry. For more information about AALSO visit their website here.
Aquarium Filtration Systems & AALSO Exhibition
We will be exhibiting our newest all inclusive LSS system, which filters the highest bioload at the shortest footprint than any other skid system in the market. Our skid system is powered at 110 volt. It is made of energy saving inverter pumps and rock solid polypropylene plastic parts. Its engineering design can filter the aquarium water down to 10 microns. Our compact water filtration systems are plug and play devices and include the following components:
Protein Skimmer / Protein Fractionator
UV sterilizer
Ozone Generator – Ozonizer
Oxygen Concentrator
Degasification Bio tower / Trickle Filter
Moving Bed Biofilter Reactor – MBBR
Multi purpose pressurized canister
Mechanical filtration PE socks
Venturi Pump
Feeding Pump
Automated Skimmer Cup Wash System
Automatic Foam Cleaner
Pumps Polycarbonate cover
Fuse box
Level Controllers
Flow controllers
View more information and full details of our Skid water filtration systems.
MAT LSS is currently the most advanced and innovative Aquarium LSS manufacturer in the world. MAT has the ability to design and manufacture water filtration systems for all aquatic exhibits like large aquariums, zoos, aqua parks and other aquatic facilities.