Haus des Meeres Aquarium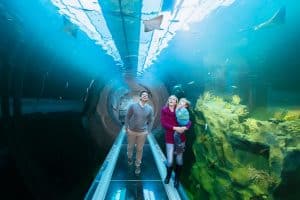 The Haus des Meeres Aquarium is in Vienna, Austria. It is built probably at the most interesting location that an aquarium has been built so far. Specifically the aquarium is inside a tall concrete flak tower of the World War II. It houses over 10,000 aquatic exhibits on an area of 4000 m2 (43,000 ft2) and offers spectacular views.
The aquarium comprises a 5m long tube and then leads through the 10m long acrylic tunnel in the middle of the pool. The 25m long tour has 4 more windows to the fantastic underwater world. With 520,000 liters of capacity, the Atlantic Tunnel is by far the largest marine aquarium in Austria. With the new Atlantic tunnel, Haus des Meeres aquarium invites its visitors to experience the fish world of the Atlantic ocean.
Creating an aquarium filtration room in a World War II bunker
Haus des Meeres aquarium awarded to MAT LSS the design, manufacturing, commissioning and installation of the filtration systems. The challenge for MAT LSS was to work inside a World War II bunker and design the filtration systems as well as the filtration room in a minimum space. The proposed filtration room was created by core drilling and surgical precision by our team.
Haus des Meeres aquarium Photos
Contact now MAT LSS for more details or to discuss the next public aquarium project.